AEROBIC, YOGO & ZUMBA  Activity centre
DWARKA'S BIGGEST ACTIVITY CENTRE WITH MODREN FACILITIES.
Summer camp for little champ starting from 2nd April onwards , Hurry up!!!! 10 % discount on 1 st 30 registration, This program aims at kids age group 2 to 5 and 6 to 15 Years,it has around 25+ activities under one roof, such as-
1. Creative Activity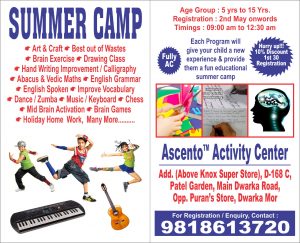 2 . Personality development program
3. Academic program / . Holiday home work/ School projects
7. English Grammar/ English Spoken
8. Dance/ Music/ CASIO/ GUITAR/
9. Drawing class/ FINE ARTS
11. Calligraphy / hand writing Improvement
12. Mid Brain Activation Program
14. concentration enhancement
15. And Many more Activities…….
Purpose for sending child to summer camp
1 spending constructive time rather than watching TV
2 to experience and learn new things
3 build up liking towards constructive activities
5 Channelizes the talent within
7 Learn socializing and making new friends by doing group activity.
For registration and more information, please contact